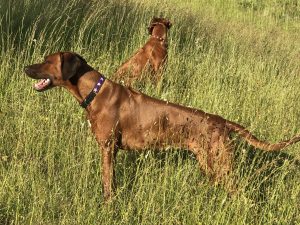 Msasa Mamoyo Sunstone
OUR NEW INTERNATIONAL CHAMPION IS NOW A CANADIAN CHAMPION AS WELL!!!!!!!!!!!!!!
Msuki is our sweet girl from the Jem & Rosie litter of 2016. She rather quickly won our hearts while still just one of the puppy pack, and just as quickly a place on the furniture despite house rules against such behavior. Suki is a bit of an individual and has sort of gone her own way, in that having grown up with a pair of Chesapeake Bay Retrievers she is pretty sure she is an honorary member of that breed as well; hunting birds and swimming in the ponds just like the curly coats.
Her collection of ribbons is growing.  Early in August 2017 Msuki became an international champion, and in August of 2018 she spent a month in Canada conquering the lands to the north. Time for more pictures.